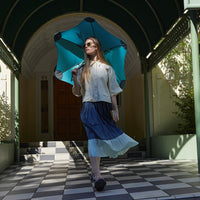 Superior technology combined with beautiful design
Make the most of the next rainy day with our BLUNT umbrellas.
For each minute of the day, 1 billion tonnes of rain falls on Earth
"Structurally, the BLUNT falls somewhere between suspension bridge and NASA space probe"
"It's architectural integrity is as unbroken as the dome of St. Peter's"

"One of the most chic umbrellas to protect you - and your outfit - come sprinkle season"
"Solidly built, not insanely expensive, and they look about as cool as an umbrella can look without being a full-on-you'd-weep-if -you-lost-it fashion umbrella. Sold"
"This one is my favourite. I love how practical it is and the geometry of it, which apparently helps break the wind"
"There's something about sheltering under a BLUNT umbrella that gives a gorgeous sense of sanctuary...you're in your own private world, you feel ever so slightly removed and cocooned. It's kind of heavenly"